Hawaii
Long Beach, Vancouver Island
Other Locations
Christmas Cards
Contact the artist
About the Artist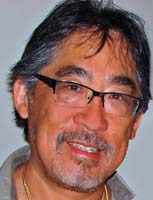 It is sometimes difficult to describe one's own art or affix labels to a genre or style.
I've been influenced by many artists, many of whom created inspirational works or continue to be productive. Monet, van Gogh, Picasso, Degas, Klimt, Chagall, Stella, Miró, Rauschenberg, Jasper Johns, Rothko, Stills and Diebenkorn have had a substantial impact and influence on my approach to creating art.
Someone once asked artist Joan Miró, "Do you consider yourself an etcher?"
Miró replied, "I am neither an etcher nor a painter but someone who seeks to express himself by every means".
The great Buddhist teacher Chang Chung-Yuan wrote, "Those who can reflect freely and purely as nature reflects the passing moods of the day are those who have achieved the light of Tao, as the great creativity".
About the Art
These creative pieces are multi-media drawings or paintings. I have used a variety of mediums such as acrylic paints, Indian inks, oil pastels, colored graphite, wax, and airbrush.
The images are taken from photographs of destinations which I have traveled to. Some of the places you will recognize in these drawings are; Hawaii, Niagara Falls, Vancouver Island, Salt Spring Island, Drumheller, and the Kootenays.